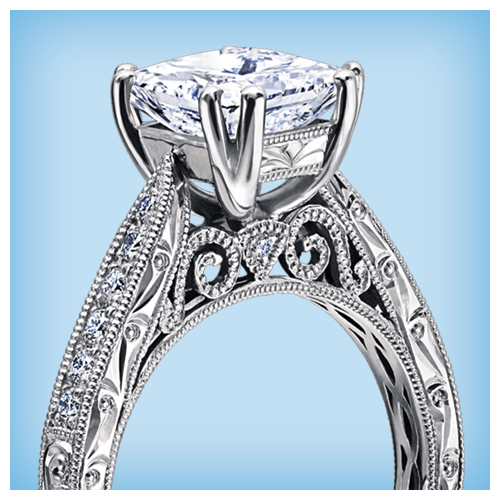 Choose the Right Mounting
When it comes to choosing the right ring or setting for your love's engagement ring, here are some factors that you should consider:
What color metal does she prefer?
Look at her current jewelry. It's important to note whether she wears white gold, platinum or yellow gold. More often than not, she will not want to stray too far from her normal colors on her engagement ring.
Size matters! What is her ring size?
If she already has a ring that fits on her ring finger, try to sneak it out for a quick sizing. This can be tricky information to come by, but it's important to get it right!
What style of jewelry does she prefer?
Again, try to gauge what kind of jewelry she prefers. Is it contemporary, bold or classic? Has she tried to hint at what kind of rings she likes? Remember that you will have to choose what kind of setting the ring will have. Some options to keep in mind include a singular stone (called a Solitaire Setting), settings with side-stones, or a three-stone setting (consisting of three large stones).
Will the ring match her lifestyle?
Make sure that you choose a ring she can wear daily. If your future fiancée has an active job or lifestyle, there are ring settings such as the cathedral setting that can help to keep the diamond safer. This is something that you may want to talk more in depth with Meadows' Jewelers about.
Still unsure?
If you really don't have a clue, choose a beautiful diamond set in a classic Tiffany mounting and present it to her during the proposal. Shop together for the mounting. This is a great way to show you care and still make sure she loves her new ring.
Go Back
Continue